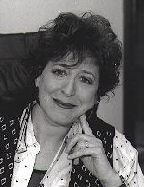 Crescent Dragonwagon is the author of 40 books, including cookbooks (Dairy Hollow House Soup & Bread, a Julia Child Award and James Beard Award nominee, has sold over 260,000 copies), children's books (Half a Moon & One Whole Star, a Coretta Scott King Award-winner), and novels (The Year It Rained, a New York Times Notable).

She has also written for periodicals ranging from Cosmopolitan to Fine Cooking to Lear's, Mode, and the New York Times Book Review.
Her forthcoming Crescent Dragonwagon's Vegetarian Kitchen will be published by Workman Publishing in 2001 and is described by its editor as "in effect a vegetarian Joy of Cooking."
It will come out at about the same time as three new children's books, The Sun Begun, And Then It Rained/And Then the Sun Came, (Simon & Schuster) and Sack of Potatoes (Marshall Cavendish).
She has been a spokesperson for the California Almond Board and Le Creuset, and is one of the top ten most-requested speakers at the International Association of Culinary Professionals. She has appeared on Good Morning America, CNN's On the Menu, and TVFN. (CD kneels in a then-new herb garden, right)

Her food—she served brunch to a thousand at President Clinton's first Inaugural—was proclaimed the best of Inaugural Week by the New York Times. She has the probably unique distinction of having prepared and served cornbread to both a president (Bill Clinton) and a royal (Princess Elizabeth of Yugoslavia).
With her husband, the writer and historic preservationist Ned Shank, she co-founded Dairy Hollow House, a country inn and restaurant in the Ozark Mountains, which was acclaimed in such publications as Bon Appetit, Gourmet, and Conde Nast Traveler, and was named one of America's four best country inns by USA Today. The two closed the inn in 1998 to found the nonprofit Writers' Colony at Dairy Hollow (http://www.writerscolony.org.)

She has been a speaker at dozens of conferences for such groups as International Association of Culinary Professionals, Professional Association of Innkeepers International, the International Reading Association, and the American Library Association.
Crescent Dragonwagon's Homepage: www.dragonwagon.com