Katrina Vandenberg
Exposure
That summer, I lived downtown, my only friend
a flea-market hound from rural Georgia.
She made me earrings from typewriter keys,
was the type to smile into the eyes of any man
who said hello or asked for money.
To walk with her the lovely curve of Wacker
an evening after beers, was to suffer
my photograph being taken with her
and two men visiting from Jerusalem,
the revelations of the homeless, of
young men who so desperately wanted her
to join them for coffee, they indicated with a glance
her surly, bitchy friend could come along.
Her eyes promised calm and light,
like the bit of Lake Michigan visible
from our windows, and when two college boys
ran up one night to say their club made sure
women visiting Chicago were never bored,
she only dimpled and drawled, Which one of you
is president? Too old for it, we lived
on the ninth floor of the art school dorm. Mornings
I toweled off in front of a plate-glass window
big enough for the long throats of skyscrapers,
the bikinied mannequins on display
at Marshall Fields shrunk to the size
of plastic babies in Mardi Gras king cakes.
At the parking deck across the street,
the businessmen strolled from their cars
in open-necked seersucker shirts
to the rail at the edge of the roof,
their hands in their pockets as they talked
and looked into the distance. Weeks went by
before I realized there was no distance,
just twelve floors of young women flipping back
newly-combed wet hair, stepping into
their panties and the day — nothing
between any of us but a few stories.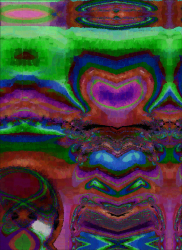 Navajo Mystic
(Terry Wright)