Lynn Strongin
A Hallucinatory Gleam

If you've got tears, be prepared to shed them.
Bath towel of the rocking horse is bled thin here down in Fayetteville.
I went to temple in my mothers womb.
Shabbat Shalom.
Another book loaned into oblivion.
The heather-bush in the drive has a hole torn.
Your brio!
Birthday blue shoes.
The banister at the Chinese restaurant has a gleam,
knotholes burnished, leaned on by generations:
Over & over, from Tues. to Thurs, I order myself small won-tons.
Father favored Chinese take-in:

after funerals,
before weddings.

even arctic outflow winds
polish tings like banister held by flimsy tinsel archangels, descending.

Little red bird in the cheap cage, in the birdcage grocery, outside the Chinese kitchen,
the birthday rose I sent is sprouting.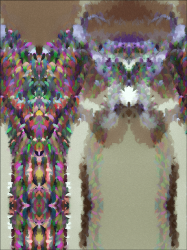 Yogi & Boo-Boo go to Peru
(Terry Wright)