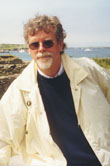 Michael Heffernan is on the staff of the MFA Program in Creative Writing at the University of Arkansas, Fayetteville.

Other new work of his appears in The Southern Review, The Gettysburg Review, and Witness.

His sixth book of poems, Another Part of the Island, was published in 1999 by Salmon Publishing (Ireland).

He lives in Elkins, Arkansas.